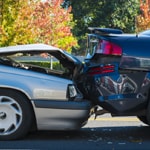 What does it mean for a vehicle to have a five-star rating on a frontal crash test scenario? We get such questions frequently here at Sterling Ford-Lincoln. Here's our brief overview.
NHTSA Vehicle Safety Ratings
NHTSA vehicle safety ratings use a five-star system to indicate how well or poorly a vehicle protects occupants in a typical crash scenario. Owing to limited budget, the NHTSA only focuses on the most common types of collisions:
Rollover
Side Pole
Side Barrier
Frontal
Frontal refers to a head-on collision scenario. The side pole test is a spin-out scenario in which the driver loses control and slams into a pole. The side barrier tests gauges vehicle crashworthiness in collisions at intersections. Rollover determines how top-heavy a vehicle is and how apt it is to roll after completing a sharp, evasive maneuver on the road, such as swerving.
The Star Ratings
The NHTSA doesn't disclose in depth how they translate crash test results into numbers of stars. However, they do report that a vehicle's five-star safety rating means there's less than a 10-percent chance that drivers and passengers may sustain injury in a particular collision.