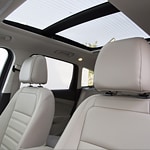 Compact SUVs are known for their drivability and fuel efficiency, but ever since the Ford Escape made its debut onto the market they've also been known for their capability features. Here at Sterling Ford-Lincoln, we regularly field a number of questions about what makes the Ford Escape a quality vehicle, so we've decided to fill you in a bit.
The Escape offers a number of features and options that are guaranteed to help you navigate your daily commute and routine. One such feature is the inclusion of selectable drive modes. These drive modes make it easy for you to navigate your surroundings, no matter the surface material. The Escape also offers an impressive towing capacity of 2,000 lbs., so packing for your next boat trip or camping excursion should be a pretty simple experience.
To see what else the Ford Escape has going for it, come test drive the compact SUV here at Sterling Ford-Lincoln.